Are you looking for entertainment for your school prom?
Kent Discos are offering a fantastic special offer for all school proms in 2016!

Click here to see the special offer!
Book your school prom and have our photobooth hire
free of charge!
Our free photobooth is based on a £100 deposit which is returned providing over 60 prints are sold on the evening of the prom!
Prints are priced at £5 each and are supplied in a professional black cardboard frame mount and sealed in a plastic bag.
Terms and conditions apply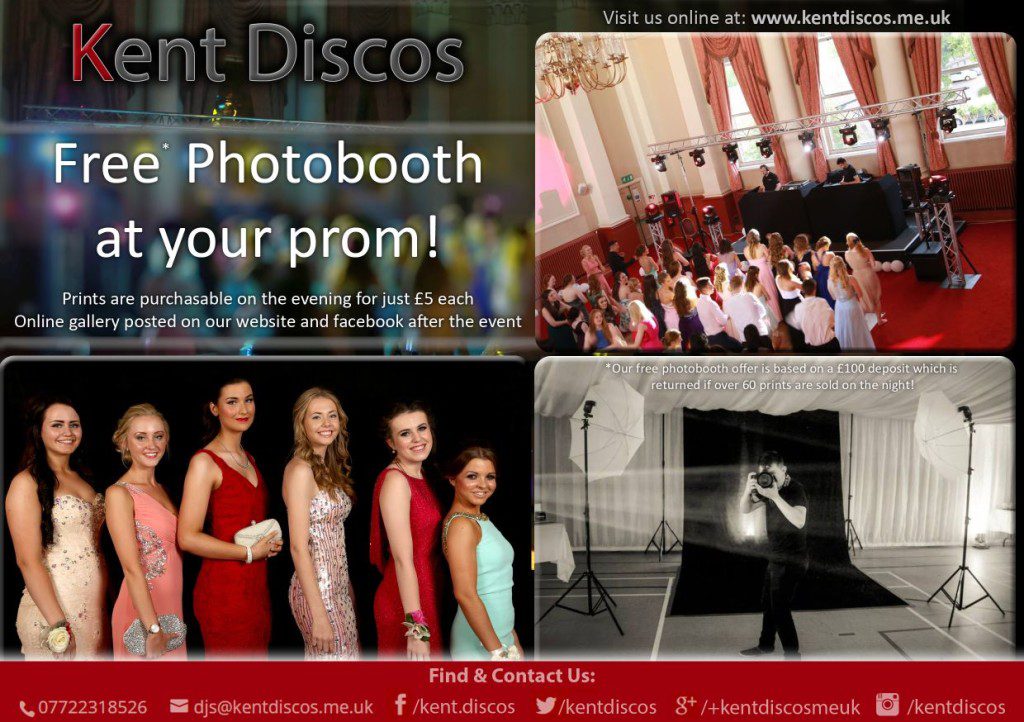 Disco
Kent Discos are the perfect choice for your prom disco - we can provide a setup to suit your venue and we also have many optional extras to further enhance the event!
Our standard setup is perfect for most venues however if you are planning a larger prom then why not take a look at our extended setups and really amaze all of the students!
We welcome requests on the night and also pre-requests too - a great idea if you'd like to select a song in advance!
Photobooth
Our portable photo studio style photobooth can be right at your prom with the option for the students to purchase the prints.
The prints are in a standard size of 6×8″ (A5) and are supplied in a professional black folder framed mount and protected inside a sealed plastic bag to ensure the photos make their way home nice and safely.
"Our professional dye-sub printer ensures there is minimal wait time with prints being printed in under a minute!"
There are always at least 2 staff at the photobooth, one as photographer and the other as editor and printer to enable a super speedy photographing and printing service.
Portable photo studio style photobooth
Our photobooth is a little different to all of those sit in booths you see!
Our booth couples a professional photographer complete with a high-end DSLR camera, backdrop and lighting system ensuring your photos will be the best quality they can be.
As soon as the photos are taken they are wirelessly sent to our editor who can display and quickly edit your photos in a choice of colour, black and white or sepia - the choice is yours!
The photos can also be sent to the giant 42″ LED screens and displayed to the audience if this extra has been added!
Group photos are no problem either - we can fit many people onto our photobooth!
We also supply a box of props for later in the evening after the formal shots have been taken - perfect for some party fun!
Example images
Make sure to check out our examples at the very bottom of this page - a selection of photos from a prom we were proud to be part of in 2014, a few of our props can be seen below!
TVs
Why not add our giant 42″ LED TVs to the package too?
We can display the photos on the big screen as soon as they're taken!
The TVs are a perfect way for your guests to see their images straight from the photobooth, or why not have them wirelessly sent up to the dancefloor area and displayed on the screens in front of the disco!
When adding the TVs we'll also be able to display text, the school logo or anything else you may want on them - maybe an end of year video/slideshow?
We can also display a twitter feed on the TVs so you can share your own images and messages right on the big screens!
After the prom
We've permission from the school (mainly for under 18s) - we'll post the photos onto our website in it's own gallery and also on our Facebook page for everyone to enjoy.
Feel free to tag, comment, share and like the photos - a great way to keep the memories forever!
Of course we will not post any images online unless prior consent has been given in writing by the school.

Photobooth examples from one of the proms in 2014